Vacant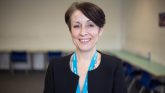 Vice Principal Curriculum and Quality, City of Bristol College
I have worked in FE since 1991 and, prior to joining City of Bristol College in January 2018, I held senior leadership positions in quality and curriculum at South Gloucestershire and Stroud College and Ealing, Hammersmith and West London College. Following a career as a professional musician and community arts practitioner, 10 years teaching in the performing arts and over a decade working as an inspector for Ofsted, I am passionate about the power of learning and skills in transforming lives and communities.
It's a privilege and an honour to lead on establishing high standards of teaching, learning and assessment at City of Bristol College, alongside creating an inclusive curriculum that ensures all students, whatever their backgrounds, starting points and goals can achieve and progress into further learning, employment or independence.
In my spare time I enjoy music and the arts and the occasional run.