Joint Health and Wellbeing Strategy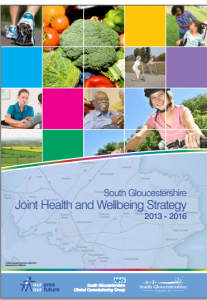 The strategy is a plan that will aim to improve the health and wellbeing of people in South Gloucestershire.
It will focus on local health and wellbeing priorities and will also include some measurement of how we are doing in improving these priorities. Part of the strategy will contain advice to local organisations and communities about what they can do to improve health and wellbeing.
South Gloucestershire's first Joint Health & Wellbeing Strategy (JHWS) is produced by South Gloucestershire's Health & Wellbeing Board and developed between the NHS Clinical Commissioning Group, Public Health and South Gloucestershire Department for Children, Adults and Health, who are represented on the Health and Wellbeing Board. The JHWS has been developed with the community and voluntary sector.
For more information on the JHWS download the strategy.
A consultation report has been produced which summarises the main consultation responses and how they have been addressed in the post-consultation version of the JHWS,  and there is an Easy read version of the strategy as well.