Joint Strategic Needs Assessment
The Joint Strategic Needs Assessment (JSNA) provides a comprehensive picture of the current and future health and wellbeing of our local population.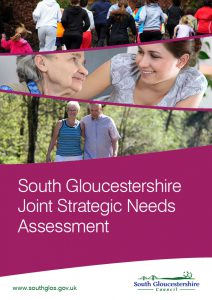 The latest JSNA (2016) can be found here   http://edocs.southglos.gov.uk/jsna
The JSNA:
• provides a common view of health and care needs for the local community including identifying inequalities in health
• documents current service provision • identifies gaps in health and care services, identifying unmet needs
• details evidence of effectiveness for different health and care interventions
• draws on a wide range of quantitative and qualitative data, including service user views
• is concerned with wider social factors that have an impact on people's health and wellbeing, such as housing, poverty and employment.
It is used by health, social care and voluntary organisations as an evidence base for planning services to meet the needs of the local population and the priorities identified from the JSNA are used to inform Joint Health and Wellbeing Strategy. The production of a JSNA is a statutory duty which currently rests with local councils and NHS primary care trusts (PCTs) as required by the Local Government and Public Involvement in Health Act (2007).
Historic documents
JSNA Community Capacity Report – July 2012
The Care Forum was commissioned in 2012 to research and write a report on community capacity in South Gloucestershire for inclusion in the Joint Strategic Needs Assessment (JSNA).