Pharmaceutical Needs Assessment
PNA Supplementary Statement
PNA-Supplementary-Statement-June 2022
PNA Supplementary Statement
PNA-Supplementary-Statement-April-2022 (2)
PNA Supplementary Statement
PNA-Supplementary-Statement-April-2022
PNA Supplementary Statement
PNA-Supplementary-Statement-December-2021
PNA Supplementary Statement
PNA-Supplementary-Statement-November-2021
PNA Supplementary Statement
PNA Supplementary-Statement – April 2021
PNA Supplementary Statement
PNA Supplementary-Statement – April 2021
PNA Supplementary Statement
PNA Supplementary-Statement – January 2021
PNA Supplementary Statement
PNA Supplementary-Statement – August 2020
PNA Supplementary Statement
PNA Supplementary-Statement – August 2020
PNA Supplementary Statement
PNA Supplementary-Statement – July 2020
PNA Supplementary Statement
PNA Supplementary-Statement – April 2020
PNA Supplementary Statement
PNA Supplementary-Statement – April 2019
A supplementary Statement – February 2019
PNA Supplementary Statement – February 2019
A supplementary update has just been published
PNA Supplementary Statement-June 2018
A supplementary update has just been published
PNA Supplementary-Statement-March 2018
A 2018 Pharmaceutical Needs Assessment for South Gloucestershire has been published.  Click on the link below to read it:
South Gloucestershire PNA 2018 for publication  
A supplementary update has just been published (March 2017)
PNA Updated Supplement March 2017
Historic Documents
The Government required all Health & Wellbeing Boards to produce an assessment of pharmaceutical services in their areas by 1 April 2015 and at least every three years thereafter.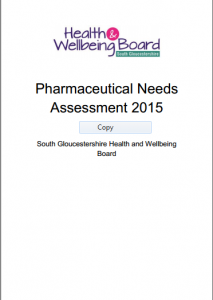 This document is called the
South Gloucestershire Pharmaceutical Needs Assessment February 2015
UPDATE DECEMBER 2016
Supplementary Statement December 2016
UPDATE SEPTEMBER 2015
DRAFT Supplementary Statement 2 PNA Sept 2015
UPDATE June 2015
Further to the publication of the Pharmaceutical Needs Assessment, and the process for receiving and acting upon changes in the provision of pharmaceutical services which was agreed by the Health and Well-being Board, below is an update regarding the South Glos pharmaceutical list and related matters.
Pharm list changes (SG) June 15
What are pharmaceutical services?
Pharmaceutical services are many of the services currently provided under the NHS by community pharmacies, and include:
The dispensing of medicines and appliances on prescription
The sale of medicines to the public
Providing advice to the public on medicines or managing illness
Receiving waste medicines for safe destruction
Some pharmaceutical services may be provided by dispensing GP practices, or dispensing appliance contractors.
If you would like any more information on this matter please contact Samantha Cossey on 01454 864594